Went to see Wanted at the cinema last night before it is taken off on Friday. It was a pretty decent action film. But none of it could actually be real. Jumping on a train, firing bullets obsence distances, but it was still a really well put together action film. With lots of twists and turns, I did however guess one of them but dont want to spoil it for anyone !!!

James McAvoy, seems to pop up in everything lately. He must be well thought of it America, as he hasnt exactly been in weak films and good on him for still doing British films as well. Being the male lead with supporting actors such as Morgan Freeman and Angelina Jolie isnt too bad like !!!

Morgan Freeman at times seems more like Samuel L Jackson (if you have seen the film you will understand what I mean, not really used to Morgan swearing like Samuel would, but that made me laugh at a part that probably wasnt supposed to be funny.



David Beckham . . . David Beckham and more David Beckham
I was in my element when I went to New York last month and bought a few things from the HBO shop which was really cool.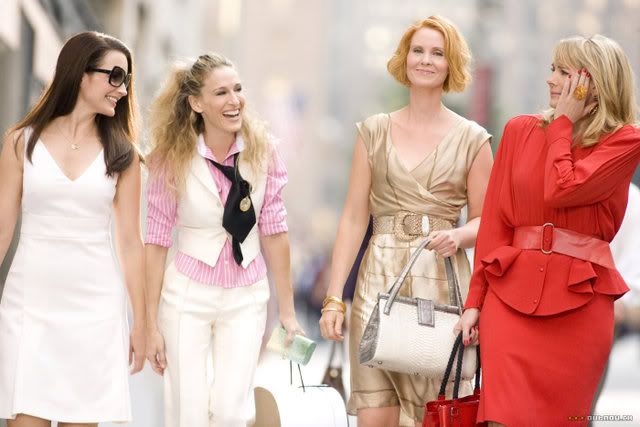 I dont really know many people who actually like it, a few of my friends say that they would watch it if nothing else was on, but know one who loves it the same way that I do. Which is a shame really but never mind. Something you get used to I suppose.
Well I have been a massive fan of Sex and the City for a few years now. I got the TV show all series box set for Christmas (which is the cool shoe box set). I still watch it every night on paramount comedy, as two episodes are on from 10 on weekdays.
Because it has been a while since I have posted, I thought it would be a good idea to post all about my different fandoms/ favorite films and actors/actresses along with footballers.

So kinda like a pic spam, re-visiting the old and showing off the new.

Daniel Craig



Orlando Bloom

Current Music:

Moulin Rouge Film
All of the cast were really amazing, none of them had flaws at all. Completly solid cast. Christian Bale, Heath Ledger, Morgan Freeman, Gary Oldman, Aaron Eckhart, Michael Caine, Maggie Gyllenhaal. Then the rest of the cast too.
Heath Ledger does really steal every scene that he is in. My favorite scene had to be when Batman and the Joker were talking/fighting in the prision cell. It was fantastic.
As this eventually came out on Thursday (which seemed like forever, since the first promo pictures and everything were released ?!?!?) I saw it at the cinema last night. It really was fantastic.
I havent updated my journal since December !!!

I think its time I started posting again. So be prepared for more posts in the very near future.


Bridget Jones Diary, I was actually quite suprised to see this in the list as i had totally forgot that it starts and ends at Christmas. I do really love this film as I love Colin Firth and I think Renee is fantastic as Bridget. I would class the two Bridget Jones Diary books as some of my favorite books and the same can then be said again about the films, especially this one, but i dont know if i would have it on a Christmas feel good list.

Next up . . . Home Alone . . . without a doubt this is my favorite Christmas movie. I suppose its a combination of favorite movie as a kid and associating it with Christmas then (even though it was watched all year round). It truly is a modern classic and should always be watched around Christmas.

Next they have:
"Meet Me In St Louis - "Have yourself a merry little Christmas..." "Clang, clang, clang went the trolley..." "If you like-a me like I like-a you..." - Hollywood legend Judy Garland sang ever so sweetly in this classic musical directed by her husband Vincent Minnelli, father of Liza. For fans of picture-postcard Americana, this film is irresistible and it really puts you in the mood for Christmas." - - - I have not seen this movie YET. It is on over the Christmas TV at some point and I definatly plan on watching.

The Wizard of Oz, I dont suppose I would associate this with Christmas either but I assume thats because its always on at Christmas and thats when most people get to watch it, I dont know. I do like this movie but i would call it one of my favorites or even a favorite musical.

Miracle on 34th Street (1947) - They have the original on the list and I did get to watch it the other week and you cant argue about it being on a list of feel good films. However, Richard Attenborough in the re-make has my heart as Santa Clause again probably because I used to watch it when I was little.

The Muppets Christmas Carol !!!! This is definatly up there with Home Alone. I love the Muppet version of A Christmas Carol. I was never really fond of different Christmas Carol versions when i was younger but love the Muppets. With Michael Caine playing the starring role surrounded by the muppets it doesnt really get any better than that !

They also had Die Hard on the list . . .

Well a few movies which are my favorites at this time of year which did not make the MSN list . . . Love Actually. I must admit that the first time i watched it I didnt really care for it, but after the second viewing i growed to actually love it. I think with so many different stories and different characters it is rather complicated and confusing on the first couple of times watching it. I have really lost count how many times i have watched it, however I do safe it for Christmas time so dont watch it randomly in July.

Going back to The Holiday which I am currently watching, I saw it in the cinema last year just before Christmas and although I dont think i found it very christmasy although it was set at Christmas. It really is a nice movie though and worth a watch. Kate Winslet and Cameron Diaz are both fantastic in the two leading roles with Jude Law and Jack Black adding nicely into the film when Winslet and Diaz swap homes for the Christmas Holiday to get away from the men in their lives and end up finding other men, haha.
Just reading an article on MSN about The Best Movies: Christmas Feel Good Movies. So it is inspiring this entry . . . also I have just put on The Holiday (which is on sky movies premiere all week). As expected It's A Wonderful Life is the first movie that it mentions, which is about George Bailey who is rescued by a guardian angel who saves him from commiting suicide by showing him how the world would be if he was never born, probably doesnt sound very nice at all and if I remember rightly it actually started to make me feel a little depressed but the end saves it all . . . "everytime a bell rings, an angel gets its wings". So would Its A Wonderful Life be in my list of top christmas movies? Yes it certainly would.
Current Music:

The Holiday movie
Others include Patrick Dempsey and James Marsden after Enchanted today . . . firm favorites Orlando Bloom, Brad Pitt and George Clooney.
With it being a while since posting that means there has been no pic spams, so i thought i would start my pic spams off again with pictures of actors including my favorite Daniel Craig!